McKenzie Health System "Healthy Living…Together" to Focus on Child Abuse Prevention with April 19 Session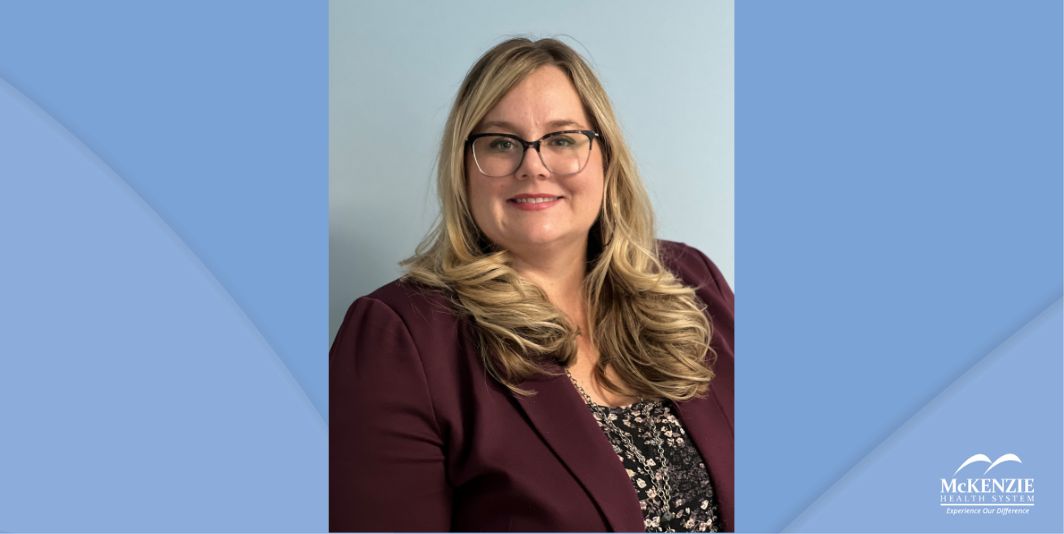 Photo: Stephanie MacMillan, Program Coordinator, Child Advocacy Center
With a focus on adverse childhood experiences and how these can impact children's health and well-being, Stephanie MacMillan of the Child Advocacy Center will share critical information on Child Abuse Prevention for McKenzie Health System's next "Healthy Living…Together" session. The free event takes place on April 19 from noon to 1 p.m.
As part of National Child Abuse Prevention Month, MacMillan will discuss how toxic stress affects the body and what different behaviors may look like across various settings. Registration is available at https://www.mckenziehealth.org/event-calendar/event-details/?Event=30258. The live session also includes the ability to watch via Zoom or call in via phone; the webinar will also be recorded and shared via McKenzie Health System's YouTube channel and Facebook page. Speakers are on video so participants can see and hear them; participants will be able to type interactive questions and comments for the Q&A discussion.
"The more you know, the more you are empowered to care for the kids in your life and our community," said Nina Barnett, McKenzie Health System Public Relations and Foundation Coordinator and Healthy Living Chair. "We are honored that Stephanie is joining us to discuss this important topic."
Community members can register for each free event at 810-648-6117 or www.McKenzieHealth.org/Healthy-Living-Together
Additional dates and topics include:
April 19, Child Abuse Prevention: Stephanie MacMillan, Child Advocacy Center
May 17, Outdoor Cooking Class & Container Gardening Herbs: Merry Martin, Master Gardener and Kristina Myers, Registered Dietitian, McKenzie Health System – takes place at Diamond Trail, Sandusky
June 21, Puppy 101 and How to Make Dog Treats: Carolyn Crowe, Great Lakes K9 Obedience Instructor, Leader Dog for the Blind Puppy Raising Program Counselor, and AKC Canine Good Citizen Evaluator; and Kristina Myers, Registered Dietitian, McKenzie Health System – takes place at Diamond Trail, Sandusky
July 19, The Signs of Drug Use: Emily Quandt, LMSW, Director of Human Services, McKenzie Health System
August 16, Preserving Your Michigan Harvest: Laurie Messing, MSU Extension Food Safety Educator
September 20, Organizing Tips: Connie Kramer, Integrit Cleaning & Organizing Service
October 18, Medicare/Medicaid, Kari Granz, Program Coordinator, Thumb Community Health Partnership
November 15, Sleep—The Best Ways to Get What You Need and Easy Home Workouts: Jennifer Long, Director of Rehab Services, McKenzie Health System; and Veronica Byrne, Physical Therapist, McKenzie Health System
Healthy Living…Together is a project developed by McKenzie Health System in collaboration with the Sanilac County Health Department, MSU Extension, Great Start Collaborative Sanilac, and Sanilac County Community Mental Health.