15th Annual McKenzie Auxiliary Golf Scramble is a Win!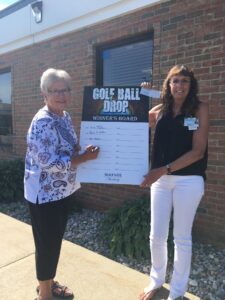 Even better than a hole-in-one, the 15th annual McKenzie Golf Scramble raised just over $24,200 in proceeds for the McKenzie Health System Auxiliary at the June 10 event. With 37 teams at the tournament, and many generous donors and sponsors, this year's annual event was raising funds to go toward the purchase of the 3D mammography technology available at McKenzie.
For the fourth time, the event featured a Golf Ball Drop, where Bender Builders dropped golf balls from a Skytrak before the event's shotgun start. Diane Reinke was the winner of the $1,000 Golf Ball Drop prize for having the first ball in the hole.
"This annual event is always a wonderful one, and we are so fortunate to have amazing sponsors, participants, and volunteers that make it so special," said Rebecca Cambridge, McKenzie Auxiliary President. "We have been working incredibly hard to raise the needed funds to finish paying off the 3D mammography technology and are thrilled to share that we are there, thanks to everyone who participated in this year's scramble!"
The 3D mammography technology, which includes 3D imaging along with ProFound Artificial Intelligence (AI) and Contrast-Enhanced Spectral Mammography (CESM), was purchased in 2019 bringing the latest in breast cancer detection to the area. Previous donations, including those given during the McKenzie Foundation April campaign which raised over $95,000, combined with the Auxiliary Golf Scramble have fully covered the cost of the entire technology package.
"Overwhelmed is the first word that comes to mind," shares Steve Barnett, President and CEO at McKenzie Health System. "To see the level of commitment and focus of our Auxiliary, who has been with us since the beginning, along with the fairly new Foundation, in paying off this technology has been overwhelming. The tremendous generosity of the many donors and sponsors has been a blessing to all of us at McKenzie after a very long year. We truly appreciate this community we are a part of."
Four-person teams enjoyed 18 holes of golf with opportunities to join in other contests along the way, including a "hole in one" contest, sponsored by Graff Chevrolet Buick in Sandusky, and a "Golfapalooza" sponsored by Kohler Propane.
Winners of this year's scramble are:
Men: Exchange State Bank – Todd Christy, Brandon Guibord, Tim Franzel, and Steve Blashill.
Women: Thumb Cellular – Betty Rich, Karole Mezo, Glenda Kirkbride, and Anna Minzey.
Mixed: Ball Equipment – Tony Doerr, Lauren Fillenworth, Chris Ball, and Tiffany Paturica.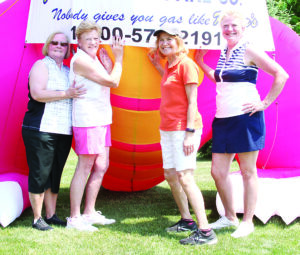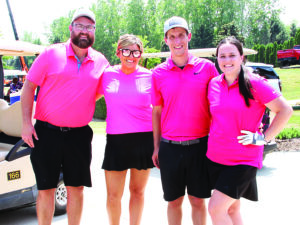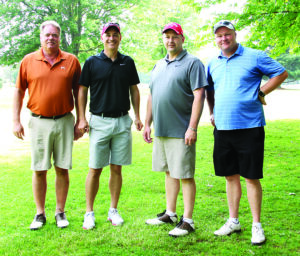 Community members can mark their calendars for the 16th annual McKenzie Golf Scramble, scheduled for June 9, 2022.
All proceeds from the annual Golf Scramble and other Auxiliary fundraising efforts are donated to McKenzie Health System. Founded in 1967, the MHS Auxiliary is comprised of individuals that volunteer thousands of hours. Members donate their time and talents for the benefit of the hospital, working in the gift shop, providing support at community events and coordinating fundraising opportunities. For more information about volunteering, contact Nina Barnett, MHS Auxiliary Liaison, at 810-648-6127 or nbarnett@mckenziehealth.org. For membership information, contact Lynn Fuller, MHS Auxiliary Membership Chair, at 810-648-6150 (ext. 366) or lfuller@mckenziehealth.org.