Emerson Industrial Auto/Numatics Donates $5,000 to McKenzie Health System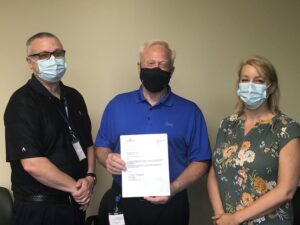 A long-time donor and contributor to the local community, Emerson Industrial Automation/ASCO Numatics recently donated an additional $5,000 to support McKenzie Health System's ongoing mission of providing exceptional healthcare. Numatics has donated to McKenzie Health System for almost three decades. The donation was presented by Emerson Industrial Automation/ASCO Numatics Director of Operations Mike Bach.
"We are fortunate to have such a generous and dedicated local business community," said Steve Barnett, President and CEO of McKenzie Health System. "Numatics has been a wonderful partner for many years and we genuinely appreciate their annual support and donations. Healthy communities are important as they typically make up much of the local workforce which businesses rely on and donations like this are critical as we continue delivering quality healthcare."
If you would like more information or would like to make a donation to through the McKenzie Health System Foundation, please visit www.mckenziehealth.org/foundation or call 810-648-6127.