Sanilac County Resident Dean Hauersperger Makes Donation to Purchase New Parallel Bars for McKenzie Rehabilitation Department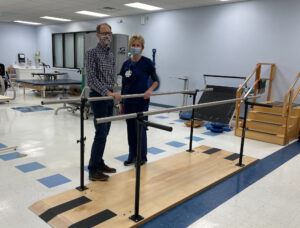 In memory of his wife, Connie, who passed away last year, Sanilac County resident Dean Hauersperger made a generous donation to McKenzie Health System for the purchase of new parallel bars in the Rehabilitation Department. McKenzie Rehabilitation Services includes physical, occupational and speech therapy with comprehensive care to restore function and improve quality of life, and the parallel bars, in particular, are used for gait and balance training, re-learning to walk, strength, range of motion and mobility exercises.
Both Dean and his wife Connie, who raised their family in Troy for nearly three decades before retiring to the family cottage in Forester Township, received treatment through the department.
"Connie and I appreciated the kindness and dedication of McKenzie's rehabilitation team and I wanted to give back in her memory," said Dean Hauersperger.
"We are always honored to be a part of people's health and wellness journeys," added McKenzie Health System Director of Rehabilitation Services Jenny Long. "Parallel bars are a very important piece of equipment for so many of our patients, and we really appreciate this generous and thoughtful donation. This gift will be put to good use and appreciated by many in the years ahead."
To learn more about rehabilitation services at McKenzie Health Department, please visit https://mckenziehealth.org/services/rehabilitation-services.