Sanilac County Open Horse Shows Donates Proceeds from "Pink Out Open Show" to MHS Foundation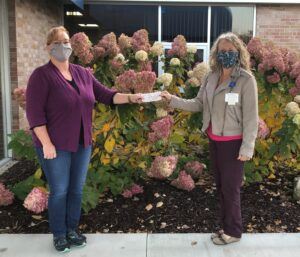 Over 100 exhibitors enjoyed a fun-filled day while riding for a cause at the Sanilac County Open Horse Shows' "Pink Out Open Show", raised $500 to support the purchase of 3D mammography technology for the McKenzie Health System Foundation. The October 24 special event, in recognition of Breast Cancer Awareness Month, also raised funds for a new horse arena.
Together, the latest in 3D mammography technology and diagnostic software provides a clearer and more complete picture, allowing very small abnormalities to be detected at an earlier stage. In addition, 3D mammography can help to reduce discomfort by offering improved positioning and better lighting while also making the process easier for radiologists and technicians. Early detection of breast cancer is crucial to treatment and survival rates.
"We are incredibly grateful to the Sanilac County Open Horse Shows for this amazing event and for their tremendous support," said Nina Barnett, McKenzie Health System Foundation Coordinator. "We are so fortunate to have the ongoing backing and collaboration from this wonderful community, and we really appreciate being included in this year's event."
In addition to the "Pink Out Open Show," Sanilac County Open Horse Shows offers a variety of fundraising events for the center and for other local organizations.
Community members with questions about 3D mammograms or those interested in scheduling a 3D mammogram at McKenzie Health System can call 810-648-6110. To learn more about 3D mammography and other diagnostic services available at McKenzie Health System, visit www.mckenziehealth.org/3D. Both McKenzie Health System and the Sanilac County Open Horse Shows can be found on Facebook.