McKenzie Health System Hosts CMU Medical Student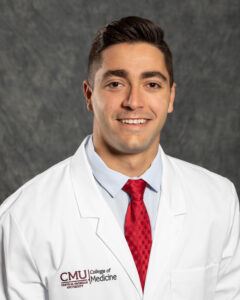 McKenzie Health System is pleased to announce a continued partnership with Central Michigan University's (CMU) Comprehensive Community Clerkship program, part of the CMU Medical School. CMU College of Medicine has a strong emphasis on rural and medically underserved regions. This clerkship allows the students to gain essential experience in a rural setting.
On February 8, 2021 Dillon Jarbo will work alongside Dr. Mark English at McKenzie's Lakeshore Internal Medicine clinic in Port Sanilac. From Sterling Heights, Dillon earned his Bachelor of Science in Human Biology from Michigan State University. His interests include exercising, cooking, and spending time with family.
"Hands-on training is vital to the development of well-trained medical professionals," said Steve Barnett, President and CEO of McKenzie Health System. "We appreciate the opportunity to partner with CMU and provide this type of experience to the dedicated and talented individuals we hope to see caring for our communities in the years ahead."
Jarbo will work in partnership with McKenzie Health System through July 2021. Please join us in welcoming him to our community!