Lacey Grabitz Earns Master's Degree in Administration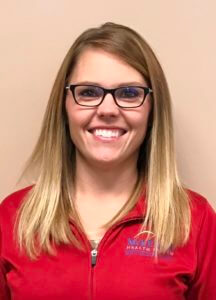 Lacey Grabitz, Finance Assistant at McKenzie Health System (MHS), recently completed her Master's Degree in Administration with an Accounting concentration through the Florida Institute of Technology. A lifelong resident of Sanilac County, Grabitz joined MHS in August of 2015 and has worked in the Finance Department since that time.
"We are incredibly proud of Lacey's commitment to the community and her pursuit of higher education. Her recent accomplishment, dedication to her fellow team members, and her involvement with her family and friends, really highlight the extraordinary person she is, and we are fortunate to have her as a member of our team," said Amy Ruedisueli, Chief Financial Officer at MHS.
"Completing this degree was very challenging with my busy schedule, but I am very grateful for the opportunity to further my education," Grabitz said. "I know it will be very helpful for my career in the future."
Lacey and her husband Nick have two children, Beckett and Ryker.