14th Annual McKenzie Golf Scramble to be held on June 6
The McKenzie Health System Auxiliary has been preparing for the 14th Annual McKenzie Golf Scramble which will take place on June 6 at Woodland Hills Golf Course in Sandusky. This will be the third year for the special Golf Ball Drop: TNT Equipment and Tri-County Equipment will drop golf balls from a tractor bucket right before the event's shotgun start – the first ball in the hole or the ball closest to the hole will win $1,000!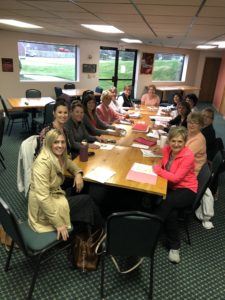 Four-person teams will enjoy playing 18 holes of golf and a delicious dinner at the end of the event. McKenzie Health System Auxiliary, through team registration fees and sponsorships, hopes to raise funds to be used to assist in the purchase of a 3D mammography machine that will bring a much-needed service to our community. All proceeds from the annual Golf Scramble and other fundraising efforts are donated to McKenzie Health System.
"We are looking forward to our 14th golf scramble. This is our biggest fundraiser of the year and we always look forward to seeing everyone. Each year it is great to catch up with old friends who return and new ones who join the cause," said Rebecca Cambridge, McKenzie Auxiliary President. "We genuinely appreciate everyone who contributes to this event with their time, sponsorships, and participation."
Team registrations and sponsorships, ranging from $50 to $1,500, are available through May 31. Check-in for the scramble is at 9:00 a.m. with the golf ball drop taking place at 9:45 a.m. and a shot-gun start at 10:00 a.m. Woodland Hills Golf Course is located at 320 N. Gates Rd. The registration fee includes dinner after the scramble. Burgers and brats are available throughout the event for a donation.
For more information or to register for the 14th Annual McKenzie Golf Scramble, please contact Rebecca Cambridge at 810-648-6118 or Nina Barnett at 810-648-6127.