McKenzie Health System Donates Pillows to Sanilac Rescue Mission
Category: News
Posted On:
While pillow fights are typically a rite of childhood, McKenzie Health System recently hosted a special "Pillow Fight for Homelessness" fundraiser to support the Sanilac Rescue Mission, a newly established organization in Sandusky that provides shelter and programming for men who are homeless. McKenzie Health System employees donated enough to purchase 36 hospital-grade pillows for the nonprofit.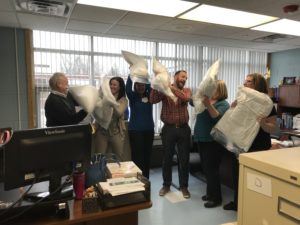 A combined effort of local churches, organizations, businesses, and individuals who believe in providing shelter with a purchase, the Sanilac Rescue Mission offers "radical hospitality" for those in need in Sanilac County. In addition to short-term emergency shelter, the mission requires those staying longer to participate in programming that will help them get back on their feet. Mission staff work with guests to help them develop a realistic plan to find a place to live, secure a job, battle addiction, or deal with whatever circumstances have caused them to become homeless. In order to remain at the Mission, guests must be taking the steps outlined in their plan and go through regular reviews to assure they are remaining on track.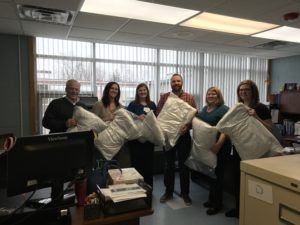 McKenzie Presents Sanilac Rescue Mission with Hospital Grade Pillows
"We are incredibly grateful for the team members who banded together to support those in need in our community and proud of our legacy of caring for the local community," said Billi Jo Hennika, Chief Operating Officer at McKenzie Health System. "A pillow might seem like a simple thing, but it can provide a sense of comfort at the end of a long day, and the Sanilac Rescue Mission was thrilled with the donation of these three-dozen new pillows."