The Latest in 3D Mammogram Technology Now Available at McKenzie Health System
Community members now have access to the most advanced mammograms available without the long drive. Donations and a commitment from the McKenzie Health System Foundation and the McKenzie Health System Auxiliary have allowed the hospital to upgrade to 3D mammography technology, also known as digital breast tomosynthesis. This technology, along with the purchase of advanced diagnostic software and additional upgrades, provides several critical improvements for patients.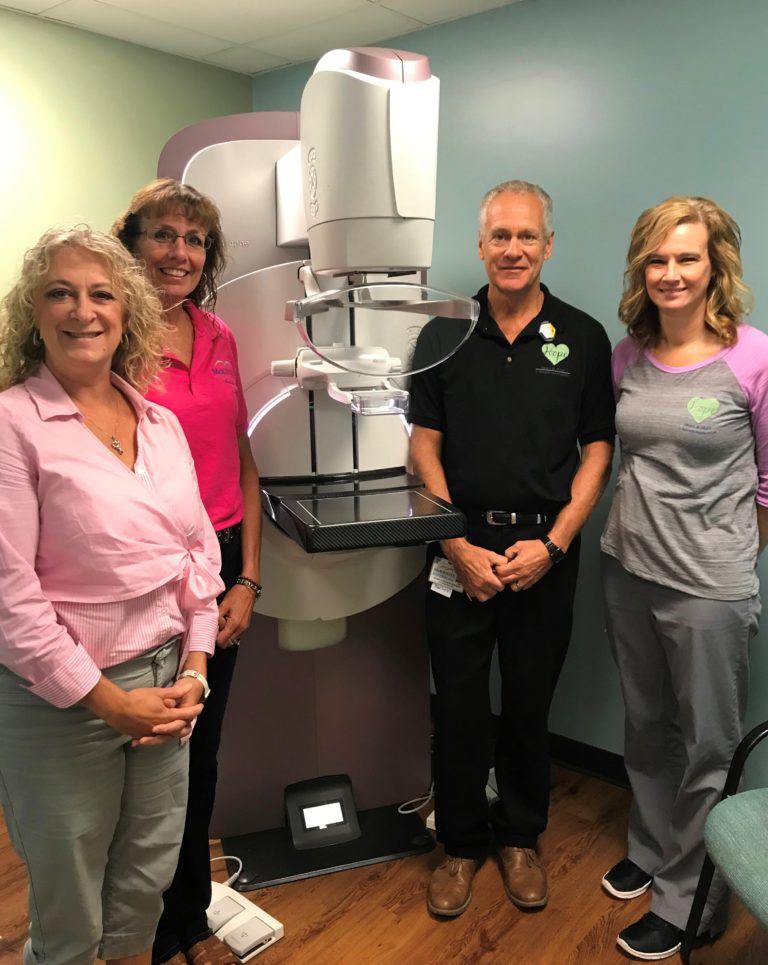 "Hopefully patients realize that not all 3D Mammography is created equal," shared Steve Barnett, President, and CEO at McKenzie Health System. "Community members would need to travel to Flint or the Detroit area to find a facility that can offer the depth of analysis we now have here at McKenzie. We are very excited that this quality of screening is now available at McKenzie and we are extremely grateful to the McKenzie Auxiliary and the McKenzie Foundation for recognizing and supporting this need."
3D Mammography is "CT-like" imaging of the breast where very small abnormalities can be detected at a much earlier stage. McKenzie also invested in the very latest in Artificial Intelligence (AI) based computer detection software which analyzes mammographic images to identify any suspicious spots that may likely be cancer. If a suspicious area is found, McKenzie can also now provide Contrast Enhanced Spectral Mammography (CESM). CESM is a study performed after an IV injection is administered. Malignant masses will be highlighted with the IV contrast and be readily seen.
Patients can be proactive in their healthcare by asking questions when calling to schedule a mammogram. Questions should include: 1) Does this facility offer 3D mammograms; 2) Does this facility apply Artificial Intelligence to the images to assist in locating abnormalities, and 3) Does this facility provide Contrast Enhanced Spectral Mammography if needed.
"3D technology provides a much clearer image of the breast, even if the patient has dense or overlapping tissue", says Jay Smith, Director of Diagnostic Imaging and Cardiopulmonary at McKenzie. "This can decrease the potential of patients being called back for additional testing, as well as increasing the ability to diagnose breast cancer, even at its earliest stages."
The Senographe Pristina 3D mammography system sets the bar for diagnostic confidence and performance with a focus on patients, technologists, and radiologists alike – putting everyone in a better position for a relaxing experience, productive workflow, and, most importantly, effective care. In addition to the advanced technology, this device was designed to reduce discomfort by offering improved positioning, elegant lighting, and gentle, rounded shapes.
Breast cancer is the second leading cause of cancer deaths among women, exceeded only by lung cancer, according to the American Cancer Society. Detecting cancer at an earlier stage will influence a woman's chance of survival. Please talk with your primary care provider about your risk for breast cancer. 3D mammography screenings are covered by Medicare and most insurance plans. You can also schedule an appointment for a mammogram at McKenzie Health System by calling 810-648-6110.
To learn more about 3D mammography and other diagnostic services available at McKenzie Health System, visit https://mckenziehealth.org/services/diagnostic-imaging.