McKenzie Health System Auxiliary Makes Donation
McKenzie Health System (MHS) Auxiliary members recently donated $16,000 to McKenzie Health System. The funds will be used to renovate the hospital dining room, which is utilized by guests of patients, staff, and community members.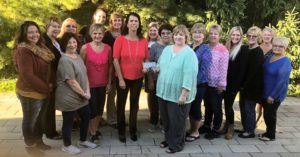 Amy Ruedisueli, CFO at McKenzie Health System accepts a $16,000 donation from Patti O'Connor, 2017-18 Auxiliary President.
Front row (l to r): Merrily Loding, Phyllis Chambers, Amy Ruedisueli (Chief Financial Officer at McKenzie Health System), Patti O'Connor.
Back row: Audrey Essenmacher, Emma Navarro, Erny Doerr, Cassy Calahan, Becky Cambridge, Margaret Jensen, Donna Foster, Carol Mitchell, Jo Derr, Kelsey Loding, Shari Phipps, Nina Barnett, and Marge Hall.
"The Auxiliary is a very important extension of MHS that represents the local community and invests in the local community through donations like this," said Steve Barnett, President, and CEO of MHS. "We are very appreciative of all of the hard work this group of volunteers puts into helping us attain our goal of exceptional healthcare."
"It truly is the generosity of our volunteers, sponsors, MHS employees, and community members that made this donation possible," added Becky Cambridge, Auxiliary President.
On June 7, the 13th Annual McKenzie Health System Auxiliary Golf Scramble was held at Woodland Hills, which raised a large portion of this donation. Throughout the year, the Auxiliary will continue to raise money to accomplish its goal of the dining room renovation. Please keep in mind these other opportunities to be a part of this mission:
Fall into the Holiday Spirit Event – November 9, 2018, at Benchwarmers – this event features a silent auction of fall and holiday décor, along with festive holiday drinks and snacks
Annual Jewelry Sale – December 7, 2018, located in the Hospital Outpatient Lobby from 8:00 a.m. – 5:00 p.m.
Founded in 1967, the MHS Auxiliary is comprised of individuals that volunteer thousands of hours. Members donate their time and talents for the benefit of the hospital, working in the gift shop, providing support at community events, and coordinating fundraising opportunities. For more information about volunteering, contact Nina Barnett in Community Relations at 810-648-6127 or nbarnett@mckenziehealth.org.