"Fall Into the Holiday Spirit" With the Mckenzie Health System Auxiliary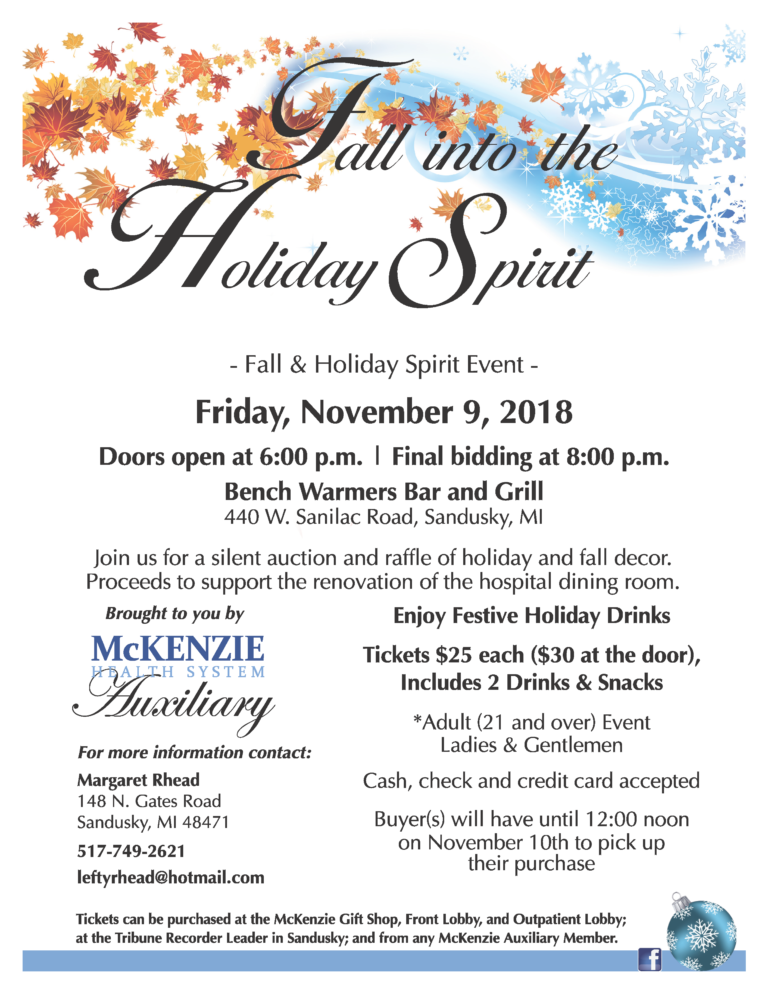 Inviting the community to get into the holiday spirit a little early, the McKenzie Health System Auxiliary is hosting a special "Fall into the Holiday Spirit" event on November 9. With a silent auction of fall and holiday décor, the event will be hosted by the McKenzie Auxiliary to raise funds toward the renovation of the hospital's dining room.
Local sponsors can create or purchase their own holiday décor (centerpieces, wreaths, trees, porch decorations, wall decor and more) and display it at their place of business through November 8, when everything will be moved to Bench Warmers, 440 W. Sanilac Rd. in Sandusky. On November 9, doors will open at 6:00 p.m. with bidding until 8:00 p.m. Attendees will also enjoy festive holiday drinks, snacks and a wonderful evening for a great cause.
"Our hospital's dining room is so important for many different reasons. It is a place for the families of patients and staff alike to enjoy a meal without having to leave the facility. It also provides space for the hospital to hold meetings, as well as events that are designed to promote a healthier community," said Emma Navarro, Holiday Event Committee Chair. "We are excited to celebrate with sponsors and the local community to support the renovation of our dining room and to get into the holiday spirit together."
A limited number of tickets, which are $25 in advance and $30 at the door, can be purchased at the McKenzie Gift Shop, Front Lobby and Outpatient Lobby as well as at the Tribune Recorder Leader in Sandusky and from any member of the McKenzie Auxiliary. The event is for adults only (21 and up).
For more information about sponsorships and the Fall into the Holiday Spirit event, contact Margaret Rhead at leftyrhead@hotmail.com or 517-749-2621.