Aging Beautifully the Focus of March 26 Healthy Lifestyle Workshop!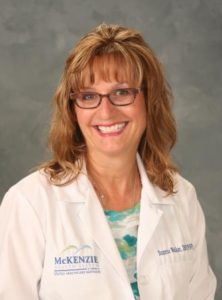 Who hasn't wondered about ways to help their skin keep its youthful appearance? McKenzie Health System invites you to focus on "Aging Beautifully" at March's Healthy Lifestyle Workshop on Monday, March 26, 2018, at 5:30 p.m. in the McKenzie Health System Dining Room, 120 Delaware St., Sandusky. The workshop will be presented by Suzette Walker, DNP, FNP-BC, AOCNP, McKenzie Health System, who is now offering skin treatments in her office at the McKenzie Health and Wellness Center. Pre-registration is required by calling Nina Barnett at 810-648-6127 or emailing nbarnett@mckenziehealth.org.
"When you smile, laugh, frown, or look puzzled the muscles of your face contract. Over time, this leads to wrinkles in the skin, especially around the eyes and mouth, between the eyebrows, and on the forehead. These lines can make you look older, sad, angry or tired," explains Walker. "If you would like to restore youthful fullness to your face, enjoy fuller lips, or soften facial creases and wrinkles, dermal fillers and wrinkle relaxers may be the answer. The treatments aren't permanent and are generally repeated every three to six months."
"These medications can add volume and provide immediate results at a lower cost than surgery. Treatments can erase the signs of aging, leaving you looking younger and refreshed! If you're curious about injectable wrinkle relaxers and dermal fillers, come and learn more about them at the March 26 Healthy Lifestyle Workshop," encourages Walker.
"And this workshop isn't only for women," shares Louise Blasius, LMSW, LPC, Director of Human Services at McKenzie Health System and Healthy Lifestyle Committee Chairperson. "Men are welcome to attend and learn about what dermal fillers and wrinkle relaxers can do for them too!" For more information about the workshop, contact Louise Blasius at 810-648-6181; to reserve your spot, contact Nina Barnett at 810-648-6127.