Quiz: Which of These Gets Kids to Eat Healthier?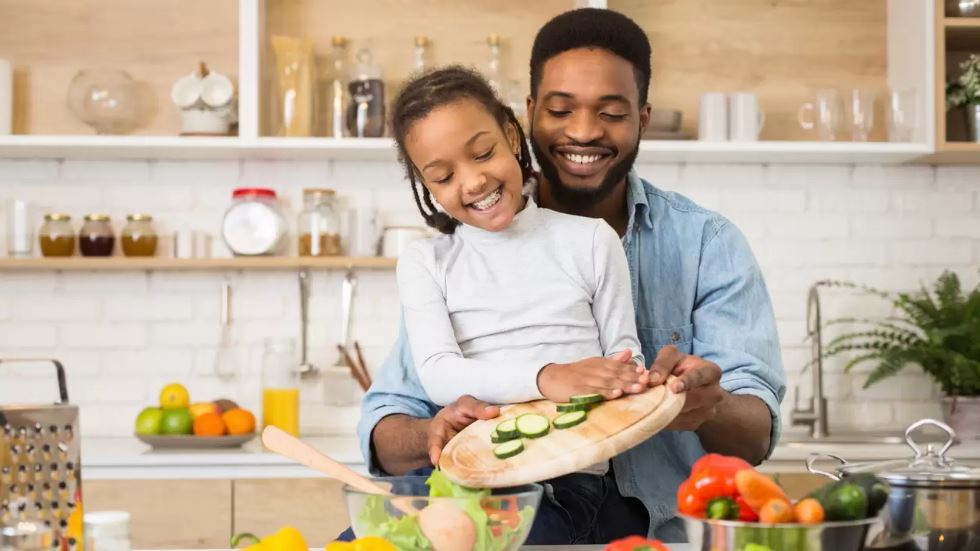 Here are some tips for improving your child's eating habits.
Parents have long struggled with finding ways to get their kids to eat healthier. Yet no matter how much effort may go into doing so, childhood obesity has become increasingly common. Estimates are that the rate of childhood obesity has more than quadrupled since the 1970's, increasing to over 22% in 2020.
There's never been a better time to find innovative ways to get your kids to eat healthier. Looking for tips that may help encourage better eating habits? Answer true or false to the following statements for some inspiration and information.
Getting kids involved in meal planning and cooking improves eating habits.2. You should forbid foods that are "bad", like candy, cookies and chips.
            - TRUE 
Kids like to have control over what they eat, in much the same way as adults do. Instead of giving them little choice in what they eat, let kids be part of the process of planning and creating meals. Talk about what kinds of food to make and steer them towards healthier options.
2. Getting kids involved in prepping and cooking healthy foods also makes it more likely they'll want to eat the fruits of their labor.
           - FALSE 
When you make certain foods off limits, it makes them more attractive. It also doesn't allow kids to learn how to incorporate splurges into a healthy eating plan. Instead of forbidding treats, allow a select treat now and then. Don't keep too much in the house or make it too accessible, but letting kids enjoy a cookie or salty snack on occasion won't doom them to a life of obesity or poor health. Rather it will let them see that it's okay to enjoy a variety of foods as long as you do so in moderation.
3. It's okay to let kids switch up meals.
            - TRUE 
There's no rule for what foods need to be eaten when. It's better to let kids gobble up leftover chicken quesadillas from last night's dinner instead of pouring a bowl of sugary cereal because there's nothing else in the house. Likewise, letting kids eat breakfast for dinner is okay, as long as that bowl of sugary cereal doesn't make a comeback. An omelet, whole wheat French toast or yogurt with fruit is a great way to end the day.
4. Don't bother hiding healthy foods in recipes—kids will know they're in there.
            - FALSE 
There are many ways to make foods healthier without kids realizing it. Veggies can be added to soups, stews and even mac n' cheese without it being obvious. Sweet treats can be made from scratch with less sugar and fat than store-bought options. You can even sneak fruit and veggies into cookies and cakes. Of course, it's worth getting kids used to eating healthy food, but making favorite recipes healthier never hurt anyone.
5. Finding creative ways to serve healthy food makes kids more likely to eat it.
           - FALSE 
Although it may not be easy to convince a teenager that healthy food is fun or cool, younger kids can be swayed by names or presentation. For example, cut melon into star shapes or design a plate out of broccoli trees and tomato flowers. Turn sandwiches into smiley faces or refer to celery with peanut butter and raisins as "ants on a log." Making mealtime fun gets kids to eat well while also creating positive associations with food.
For more LiveSmart articles, visit www.McKenzieHealth.org/LiveSmart.
Copyright 2022 © Baldwin Publishing, Inc. All rights reserved.  Health eCooking® is a registered trademark of Baldwin Publishing, Inc. Cook eKitchen™ is a designated trademark of Baldwin Publishing, Inc. Any duplication or distribution of the information contained herein without the express approval of Baldwin Publishing, Inc. is strictly prohibited.
Date Last Reviewed: June 14, 2022
Editorial Review: Andrea Cohen, Editorial Director, Baldwin Publishing, Inc. Contact Editor
Medical Review: Jane Schwartz, RDN, CLT
Learn more about Baldwin Publishing Inc. editorial policy, privacy policy, ADA compliance and sponsorship policy.
No information provided by Baldwin Publishing, Inc. in any article is a substitute for medical advice or treatment for any medical condition. Baldwin Publishing, Inc. strongly suggests that you use this information in consultation with your doctor or other health professional. Use or viewing of any Baldwin Publishing, Inc. article signifies your understanding and agreement to the disclaimer and acceptance of these terms of use.